Welcome to the MELC project website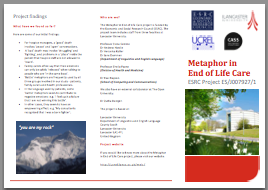 This project investigates the use of metaphor in the experience of end-of-life care in the UK. It involves a systematic analysis of the metaphors used by members of different stakeholder groups (patients, unpaid family carers and healthcare professionals) in a 1.5-million-word corpus consisting of interviews and contributions to online fora.
In addition, we will address the implications of our findings for existing descriptions and theories of metaphor as a linguistic and cognitive phenomenon. The method that will be employed to identify and analyse metaphor in the data is both qualitative and quantitative, including the use of the semantic annotation tool within the online software tool Wmatrix.
The findings of the project will be of benefit to health professionals, carers and patients alike.
Latest news: (also see the archive of MELC news on the CASS website)
8th May 2014: we hosted the Language in End of Life Care workshop at the Work Foundation in London.
7th May 2014: Elena Semino appeared on the BBC World Service's Health Check programme talking about the 'battle' against cancer.